Harmonize and fineness are essential qualities of the art of Denoel.

Extract of Roger Forissier's book (December 1981)

Born in a country from light and colors, where the sky and the ground are opposed and superimposed, a entrechat, an arabesque, a set to partners, after its beginnings in the art of the dance, DENOEL is devoted entirely to painting. Its country of birth gave him the direction of the matter, the color and the opposition of the values.

When its family left Marrackech in Morocco, his brothers settled partly in Canada, in Spain and in the States Unis. The artistic world in which it evolved brought a spirit of synthesis and a taste for the voyages to him. Space and water will remain the elements of inspiration of the artist. That it is, lakes, rivers or oceans, works of DENOËL let the spirit sail on its paintings.

Quebec offers its unbounded white horizons to him in which the artist plays between the purity of the plains and the power of the sky.In its artistic universe DENOËL had the honor to meet during its prestigious exhibitions, of Presidents significant which knew to appreciate the purity of its pictorial work.


Artist CV
Swiss artist, born in 1934.
Lives in Geneva (Switzerland) and Montreal (Canada).

Graduated from the DECORATIVE ART SCHOOL of Geneva (Switzerland)
Graduated from the DECORATIVE ART SCHOOL of Paris (France)


International Art Shows
Salon d'Automne - Paris, France

Art Expo - Geneva, Switzerland

First Art Contemporary Show - Evian, France

First Art Exhibition in the Château d'Eze - Monaco, Monaco

National Art Show - Montreal, Canada

Florida Art Show - Fort Lauderdale, USA

Exhibition at the Musée de l'Athénée - Geneva, Switzerland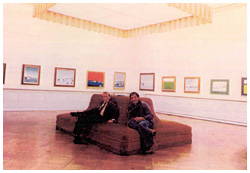 Denoël at the Musée de l'Athénée



International important collectors
Ronald Reagan, USA

Jacques Chirac (French President), France

Freri Industrie Geneva, Switzerland

Dr. P. B. Kean, OMS, Switzerland



French Plenipotentiary minister
and geneva consul


Jacques Chirac receiving a Denoël
artwork in Montreal (Canada)
Swiss collectors
UBS (Union des Banques Suisses), Switzerland

Hoffman Laroche, Switzerland

Credit Suisse, Switzerland

Société des Banques Suisses, Switzerland

Union des horlogers de la Suisse, Switzerland

Musée de l'Athénée, Geneva, Switzerland

International collectors
Société Générale - Paris, France

Naf Naf Importator - Montreal, Canada

Ernst & Young - Montreal, Canada

Davis Ward Phillips & Vineberg - Montreal, Canada

Swiss Embassy - China

McCray, Hewett & Associates - Los Angeles, USA

Special projects
Illustration for CD case of the french actor Jean-Claude Brialy

Special edition of lithographies "Hommage à Magritte"